The botulinum toxin, better known by its commercial name BOTOX, is no longer used solely by aging film and television celebrities who wish to sport a more youthful appearance. BOTOX is also used to treat bruxism and for wound healing therapy, but one of the most interesting uses of this neurotoxin involves the chronic neurological disorder known as migraine.
The use of BOTOX in the treatment of migraines was approved by the United States Food and Drug Administration (FDA) in 2010. The supporting research for the approval was presented by pharmaceutical giant Allergan, manufacturer of BOTOX. The studies by Allergan explained that BOTOX treatments could be beneficial to migraine sufferers.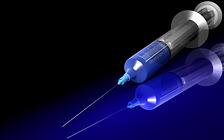 Since

BOTOX

is made from a substance that is considered to be among the most toxic in the world, it is important for migraine sufferers to be mindful of its potential side effects. The botulinum toxin can even be used in biological weapons of mass destruction, but most migraine patients enjoy the therapeutic effects of

BOTOX

without having to worry about side effects.
Using

BOTOX

for Migraine Relief
BOTOX

is administered via injection. The recommended treatment for migraine patients is 31 injections applied to the following trigger points:
Temples

Upper back

Forehead

Back of the head

Bridge of the nose
The needles used to inject

BOTOX

are very small. The substance itself does not hurt as it enters the epidermis, although many patients feel a slight discomfort when the needle pierces the skin. A

BOTOX

therapy session takes less than 15 minutes.
BOTOX

is not recommended for all migraine patients. The FDA does not recommend neurotoxin therapy for patients who suffer from migraines less than 14 days in a month; therefore,

BOTOX

is recommended mostly for chronic migraine conditions. Not everyone will experience immediate relief; in fact, many patients do not improve until their second treatment.

BOTOX

sessions for migraine therapy are usually scheduled 12 weeks apart. Patients who do not feel any improvement after their third session will probably not respond to further treatment.
Potential Side Effects
Pain and stiffness of muscle tissue are the most common side effects associated with BOTOX injections, particularly those administered in the upper back and the neck. The reason for this stiffness and pain is that BOTOX weakens the muscle tissue it penetrates, and thus the unaffected muscles surrounding the injection must compensate the weakness.

Another side effect is ptosis, which is a condition that causes the eyelids to droop; however, this is not as common as pain and stiffness. Other less common BOTOX side effects include:

Double vision
Dry eyes
Flu-like symptoms
Headaches
Rashes
Nausea

It is important to remember that BOTOX is also used by some physicians to assess their patients' likelihood to benefit from more permanent solutions such as migraine surgery.
*Image courtesy of freedigitalphotos.net