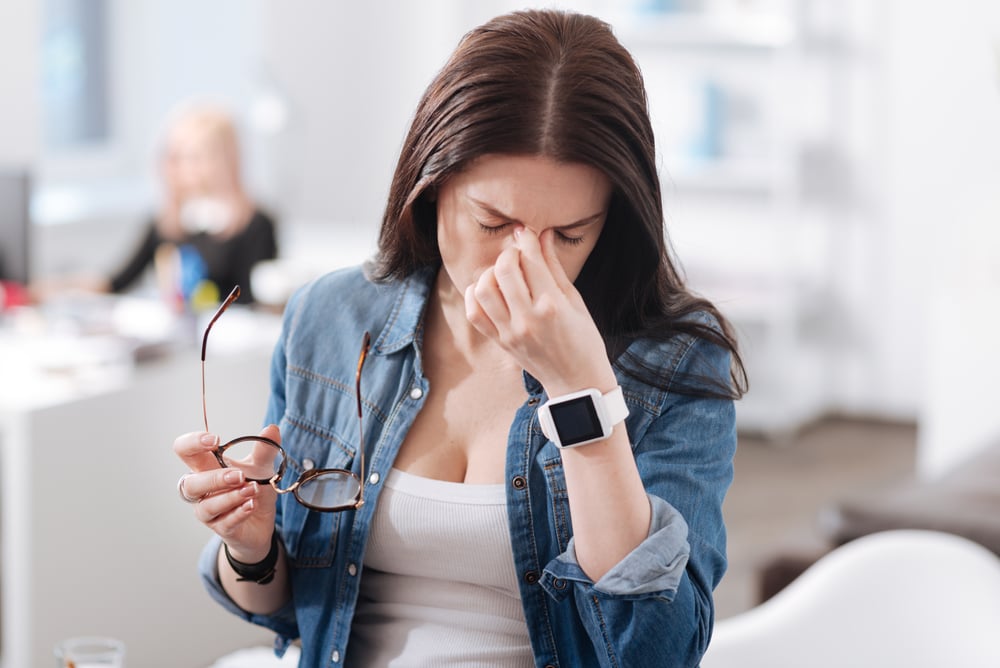 Like so many other people who suffer from invisible conditions, migraineurs are treated to suggestions and pronouncements from well-meaning friends and family. Alternatively, they must endure those who disbelieve the severity of their illness and feel no compunction at migraine-shaming them.
Here are eight things migraineurs (people who suffer from migraines) wish people would stop saying.
You Don't Look Sick
Maybe not. But the same could be said of anyone who isn't sporting a bandage, crutches, an IV, or a brace. Consider that most people who don't feel well may not appear to be sick, especially those with a chronic condition that they work hard to hide.
Another form of this is, "you're too young to be this sick." Most health issues hit at any age. Would you tell a child with cancer he or she is too young to be that sick? They might agree, but it doesn't change the fact that they really are that sick.
Trying to sound complimentary and saying how great the migraineur looks isn't helpful either. In fact, it's a bit condescending, like they don't have a real disease. They probably know you don't mean to hurt their feelings but in the midst of an attack, hearing that you look too good to be sick might be the last straw.
It's All In Your Head
Ya think? As it so happens, yes, usually the pain is in their head. It can also be in their eyes, ears, or stomach (nausea is a common symptom of migraine).
You know what else people say is in your head? Depression - a mental disease that is often found in migraine sufferers. It isn't just that they have a chronic illness that makes them depressed; migraines and depression both involve the same neurotransmitter - serotonin. It's no surprise that both conditions occur simultaneously.
They have a disease. That it is not visible doesn't mean it isn't real. Don't compound the problem by treating them as if they are seeking attention or trying to get out of work.
It's One of Those "Woman Things," Isn't It?
Seriously, you did not just say that in this #MeToo day and age. Not only is this a way of minimizing the severity of the illness, but it also leaves out the fact that men and children have migraines, too. A percentage of sufferers started having migraines before they were 20 years old.
While women and men differ physiologically (as they should), some of those differences can make women more susceptible to migraines. The shifts in reproductive hormones can trigger migraines in those genetically susceptible, although hormones are a small portion of thousands of different migraine triggers.
It's Just a Headache
No. No, it isn't just a headache. Migraines are systemic disorders that affect almost every part of a migraineur's body. Migraines create chronic pain to the point that the entire body becomes sensitized and the migraineur feels the same severe pain all over. Sometimes the treatment has side effects; it comes down to whether they are more tolerable than the migraine.
Did You Take Your Medication?
You mean well. You are just trying to rule out a possibility, but trust us…people who suffer frequent migraines never skip medications or leave them at home. Unlike Type II Diabetes, where skipping the Metformin won't cause a physical sensation, the pain a migraineur endures during an attack is an excellent reminder to always take the medication or keep it handy.
On the other hand, it's OK to ask if you can get anything for them. They may appreciate help getting whatever they need out of a purse or coat pocket.
You Need to Lower Your Stress Levels
If only. Unfortunately, stress doesn't cause migraines. Lowering stress levels is a good thing, yes, but it won't prevent a migraine attack. Migraines are neurological and genetic. They can occur when people are perfectly calm, happy, or upset. Stress doesn't necessarily trigger a migraine, although it can make one feel worse.
Besides, it's like telling someone who is extremely upset to calm down. When in the history of human events has that phrase ever helped someone calm down? You probably have personal experience of its ineffectiveness.
Have You Tried This, That, and the Other Thing?
Recommendations are a way of life these days, but someone in the midst of the worst headache they ever had won't feel better by going through a list of treatments and lifestyle changes that might help.
Yes, it's possible your other migraineur friend tried a particular medication, exercise, or diet and it helped, but migraineurs are as diverse as the people on planet Earth. What works for one, may not work for another. The sufferer may have already been through all the treatments you can think of.
Also, unless you are very close with this person, discussing personal issues like medication is probably best left to family and physicians. It's an unfortunate truth that there is no cure for migraines, only the hope that an available treatment will help prevent them or make them shorter and less painful.
At Least It's Not Fatal
Sadly, it can be. It might surprise you to know that people who suffer recurrent migraines are at risk for migrainous stroke. This is a rare condition, but people do die from it.
Migraineurs are also prone to die from suicide. Untreated migraines coupled with depression are strong predictors of dying by one's own hand. Add in the increased risk from accidents, unintentional overdoses, medical mistakes, or side effects, and migraines can be all too fatal.
We know you didn't know, but now you do. Please don't say it anymore.
What You Can Say and Do for a Migraineur
Ask if there is anything you can do to make his or her life easier today. Ask if you can call a friend or neighbor, babysit the kids, make dinner, or run errands. Follow through, and you will be a hero in their eyes.
Adjust the lights. If you live with a migraineur, installing dimmer switches and using LEDs instead of fluorescent bulbs can make a real difference. Light hurts. It's called photophobia, and the pain is real, even through closed eyelids.
Make a migraine care package. Put together a kit with items that might help and wouldn't hurt, like earplugs, eyeshades, and ice packs. Bland crackers can help with low blood sugar without causing undue nausea. While some pungent odors trigger migraines or make them worse, menthol and lavender might help. Ask first.
Don't use overpowering perfume or eat pungent foods. As we mentioned above, strong odors can trigger a migraine. It all depends on the person's triggers. It would be OK to ask what a migraineur needs to avoid to find out triggers and minimize the chance of exposure.
Offer a ride. Whether it's the pain or the medication, migraine sufferers may not be able to drive themselves. Offer to take them home or to the doctor. It will be one less thing they have to worry about.
Migraine is a chronic, neurological disease with no cure. Like other illnesses, it's invisible unless someone is suffering an attack. Think before you speak. You don't want to add to their burden.