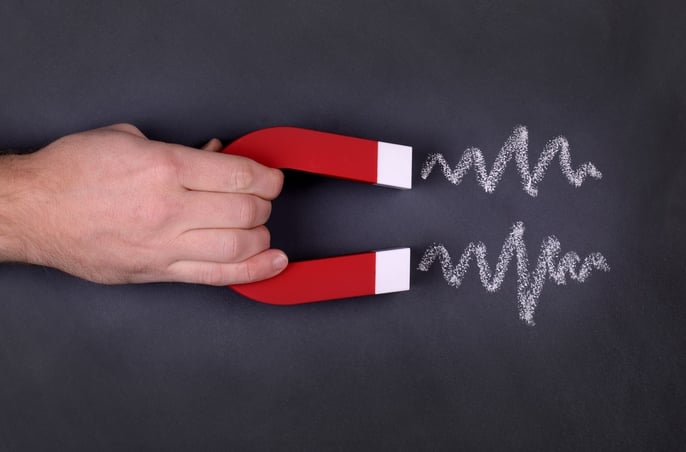 Magnetic therapy for migraines, which is clinically called Transcranial Magnetic Stimulation (TMS), is a non-invasive treatment method for patients who suffer from chronic and regular migraines. By holding a portable device to the scalp of patients, the migraine doctor transmits brief magnetic impulses through the skin to the brain. Whether the physician chooses to give single or repeated pulses, he (or she) can adjust the power, frequency and duration of the pulses, and the device records the treatment for future reference.
How it Works
The theory behind this therapy is that magnetic fields stimulate circulation when they are presented directly to the body. This relaxes the arteries and blood vessels and reduces tension in the muscles. It's also believed to release endorphins in the brain, which are the body's own natural "feel good" chemicals.
This treatment has been shown to relieve the pain symptoms accompanying many chronic conditions, including arthritis, fibromyalgia, multiple sclerosis and chronic pelvic pain. To date, no proof has been found that magnetic fields have any effect on the conditions themselves, but during research up to 68 percent of respondents showed an improvement after a week of treatment.
When applied to chronic migraine sufferers, the therapy increases the conductive abilities between brain's neural pathways, where stimulation impacts the levels of serotonin and melatonin hormones. Boosting the presence of these substances, which are known to be natural pain killers, can help prevent arrival of a migraine or at least reduce the intensity of the pain.
The TMS Procedure
Transcranial magnetic stimulation or TMS was approved for use in the U.K. in 2014 by the National Institute for Health and Care Excellence, after undergoing rigorous clinic trials. Treatments are around 30 to 40 minutes long and can be given up to 5 times a week. A typical course can last from 4 to 6 weeks, depending on the patient's individual response to the treatment.
In a trial of 164 patients who frequently suffered migraine attacks with aura, 39 percent were pain-free after two hours. While 29 percent remained pain-free for the next 24 hours, 27 percent made it to 48 hours without headache pain. Other research showed 75 percent of patients treated with TMS repeatedly had fewer headaches than previously—even those who typically suffered more than 15 attacks per month.
Other Forms of Magnetic Therapy
The stimulation procedure isn't the only form of magnetic therapy for migraines, however. Here are three common methods of self-care you can easily use at home to deliver magnetic fields to your brain:
A magnetic pillow pad, which you place inside a pillow case on top of the regular pillow. This stimulates the brain during sleep, and helps it to increase daily production of endorphins that help stave off attacks.
A magnetic headband that can help to eliminate a migraine headache treatment after it takes hold, although this benefits patients only once they begin to experience a headache. Because wearing it looks odd, patients typically don't want to wear it out to social or business gatherings, although it's a useful item to include your carry-out emergency migraine kit.
A magnetic eye mask, which covers the patient's eyes and uses the same method as the head band. It's ideal for tension-related migraines or migraine with aura, such as flashing lights or bright spots. The mask can be worn to help eliminate a headache that has already begun, as well as during sleep to reduce the frequency of future migraines.
By using a combination of these methods you can optimize the benefits of magnetic therapy.
Reasons to Try TMS
The primary benefit of this treatment is obviously that it's not invasive, and patients don't need any type of sedation or anesthesia. A patient can head for hospital or the clinic, have the procedure and be completely awake and alert during the treatment. They are able to drive home afterwards and return to their usual activities the same day. Long term use of these devices has been shown to free patients completely from hormonally-induced attacks, as well as give a significant reduction in the frequency of migraines caused by other triggers.
Few migraine therapies eliminate headaches completely, especially right away. Botox and neurostimulation methods focus on reducing the frequency of the attacks and the severity of the pain, while over-the-counter and prescription drugs are designed to stop the pain after it begins. From ketogenic diets through to the use of essential oils, many patients suffering from chronic migraine headaches more than 15 days a month have tried every possible treatment option.
While migraine surgery shows a high percentage of patients who experience complete recovery, physicians believe the long-term use of magnetic therapy can completely eradicate migraines caused by fluctuating hormones as well as significantly reducing migraines caused by other triggers.